How to Choose the Right Mobile App Development Company for Your Startup?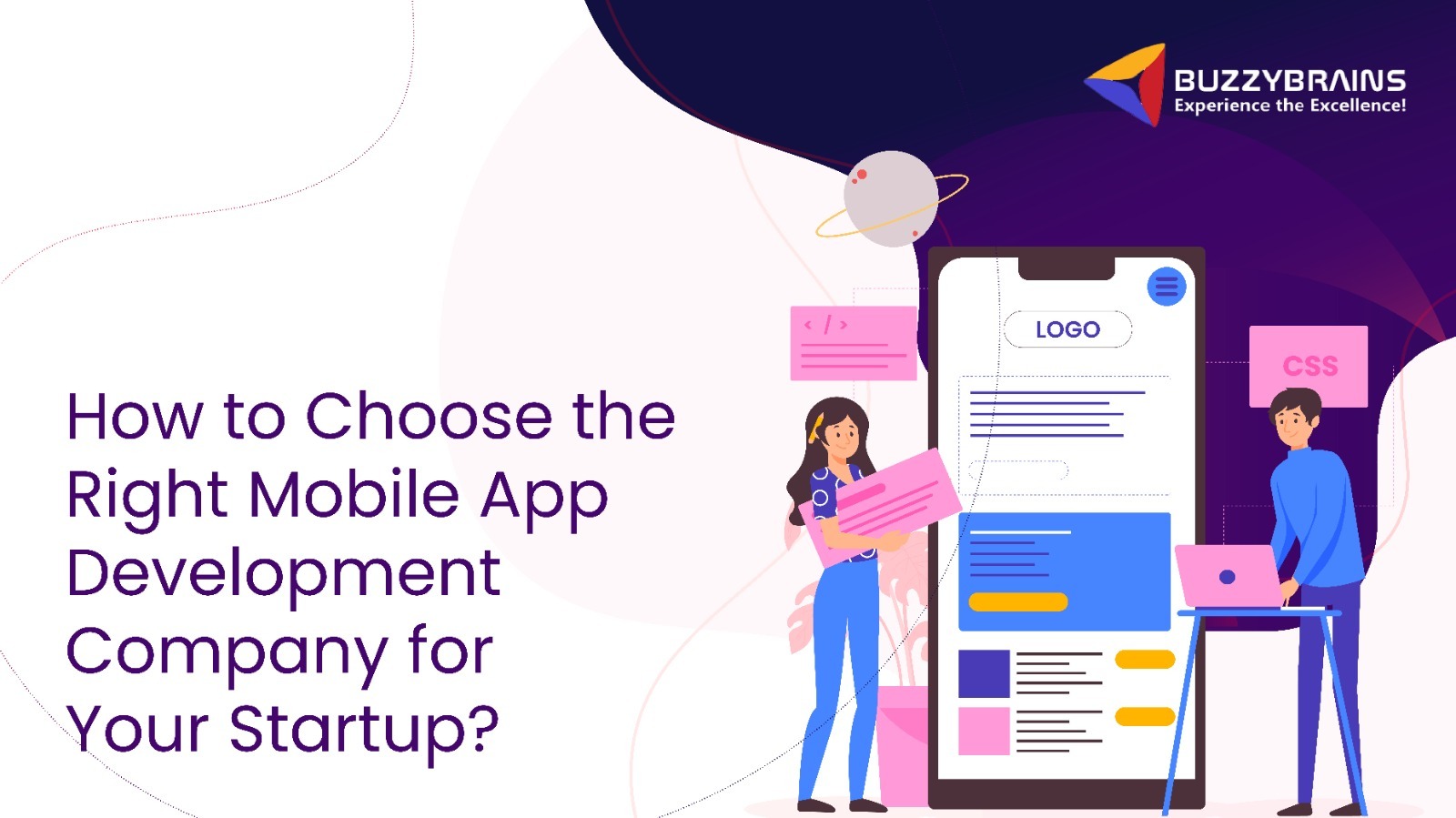 In the past decade, the overall need for enterprise-grade software solutions -particularly out of mobile app development companies, has increased significantly. For delivering access to a seamless user experience, leading entrepreneurs, Fortune 100 companies, and even startups are leaving no stone unturned.
Almost every year, major investments are made towards getting access to feature-rich, enterprise-grade startup mobile applications to draw the attention of the target audience. An effective, user-friendly mobile app for your startup can play a major role in ensuring the overall success of the company. Therefore, it is crucial for startup owners to select a reliable startup mobile app development company to get access to the best-in-class mobile apps for their startups.
Related Blog: How to Start a Successful Mobile App Startup
Importance of Choosing the Right Mobile App Development Company
With a number of mobile apps getting released almost every day, you need to make sure that your startup mobile app stands out from the rest. Assistance from a reliable mobile app development company can help you achieve that.
Mobile app development is regarded as one of the most crucial aspects of running a successful startup.
B2B mobile apps help in streamlining a wide range of complicated business-centric operations while simplifying cross-departmental communication as well.
In 2023, it is expected that the total revenues with respect to the startup app market will reach around $108.10 Billion.
A reputed mobile app development company can offer you access to talented resources along with 24/7 technical support and a wide range of enterprise-grade mobile app development services.
When you are choosing a reliable B2B mobile app development company, you should prioritize project confidentiality and data security.
Benefits of Working with the Right Mobile App Development Company
When you wish to develop a feature-rich app for your startup, you have two options -hiring dedicated developers or outsourcing the app development project to a reputed mobile app development company.
Some benefits of a reliable mobile app development company are:
Cost-effectiveness:

The overall cost of mobile app development from a reliable team will always turn out to be quite cost-effective. You can expect customized services from the experts. Therefore, you can minimize the overall cost of development.

Availability of Resources and Expertise:

In most cases, mobile app development services from a reliable company are available as a complete package as you will sign a contract with the team. With their overall expertise and resource availability, you get access to all relevant tools software languages, and licenses required for the process.

Post-Maintenance Services:

The role of a professional app development company will go past the development and deployment process. Most reputed providers also offer post-maintenance services to ensure that your app is successful.
Things to Consider When Choosing a Mobile App Development Company
There are several factors that help in determining the right mobile app development company for your startup. Some important factors to consider are:
1. Identifying Mobile App Development Needs
After you have developed an idea for your mobile app, the next step is gathering all essential app requirements around the idea. This will help in answering the following questions:
What is your target audience?
What is the geographical location you are targeting?
What is the issue your app aims at resolving?
What are the functional requirements of the app?
Identifying the mobile app development needs will feature tasks like defining the project requirements, choosing the right mobile app development platform, and identifying the overall budget at the same time.
2. Researching Potential Mobile App Development Companies
One of the best ways of coming across the right mobile app development company is by doing ample research. You can go through relevant reviews and feedbacks of the past clients. If you wish to obtain detailed information about the company, you can also reach out to the previous clients.
Additionally, you need to search for companies that have specialization in startup app development at the core. This approach will help you choose a reliable partner with deeper knowledge and understanding of the domain of startup mobile app development. You can follow the series of steps to come up with the best mobile app development company:
Search for the best mobile app development companies
Evaluate the respective portfolios
Check the overall experience and expertise
Verify the overall reputation
3. Evaluating Proposals from Mobile App Development Companies
Have you decided on the overall features and scope of the app? You need to choose a reliable mobile app development company to come up with a professional startup app. To expect the best outcomes, you need to evaluate proposals from multiple mobile app development companies. You can check them on the basis of the success of previous projects, on-time delivery, the overall costs, and expertise level of different companies.
With professional consultation, you can easily go through the feasibility of the ideas while asking the team to ensure ways to convert your ideas into reality. In addition to this, in-depth evaluation will also help in obtaining an idea of the latest industry trends, next-gen technologies, and the best features on your app that can be made possible. Some important considerations to look into while evaluating the mobile app development companies are:
What is the size of the team?
What are the different types of developers in the respective app development team?
What role do you wish to play in the project?
4. Checking References and Client Feedback
Another creative idea is to ask for relevant references from previous clients. You should search for an app development company offering accessing to proper contact information such that you are able to obtain real feedback about the company. It will help you in learning more about the brands and what services they offer, the problems they solve, and how well they have performed in the past.
For app development company reviews, you can leverage help from a reliable contractor to go through the opinions of other clients about the potential vendor. A reputed app development company will offer all relevant information to help you feel confident in their capabilities.
Another important consideration to make while choosing a mobile app development company is considering the number of years in experience. It is crucial to outsource your startup mobile app development project to a company that is capable of justifying the task with its experience. Experienced organizations are assured to offer app development services that are worth your overall consideration.
5. Communication and Collaboration
There is no denying the fact that collaboration and teamwork are relevant for your business. Communication and collaboration will help in increasing productivity, boosting creativity, and making the company more competitive in the marketplace.
It is no surprise that cross-functional collaboration is the ultimate key to maximum efficiency as well as success for companies. As a matter of fact, 83 percent of tech leaders believe that cross-functional collaboration is important for ensuring successful app development. Collaboration tends to make everyone more productive. It is the ultimate factor to success. The more people you will get to work together, the better you can expect the outcomes to be.
While improving communication and collaboration with the app development companies you hire, it is crucial to assess the communication skills of the team members. At the same time, it is also important to evaluate the availability and responsiveness while making sure that they fully understand your business goals.
6. Understanding the Mobile App Development Process
While most companies are trying to leverage the benefit of mobile apps, most of them are not aware of the process of creating the app. Success can become a reality for the organization when the same is supported with the help of the comprehensive mobile app development process that has been refined and tested for several years. The core app development process for a reliable company will encompass important phases like strategy, planning & analysis, design, app development, testing, and development.
While hiring a reputed mobile app development company, it is crucial to familiarize yourself with the mobile app development process. It is important to identify the development process while ensuring that the process aligns with the project requirements.
7. Choosing the Right Mobile App Development Company
Creation of a mobile app for your startup is more than just about coding. Rather, it serves to be a complete process requiring you to ensure the validation of the idea, get an understanding of the perspective of the user, and convert them into meaningful app designs while testing the mobile app development codes. Therefore, you should select a reliable app development company offering an extensive range of services customized to the needs of your business.
You should aim at choosing the best mobile app development company that will offer you an extensive range of services customized to your project. For instance, when you hire services from the best mobile app development company, you can expect the following range of services, including:
UI/UX design
Maintenance and support
Software re-engineering
Software architecture designing
MVP creation
Technology consulting
Next-gen tech integration
8. Value Addition
The mobile app development process is a complicated process while requiring insights from the industry experts. There are specific factors that help in supporting improving the value of a particular business in relation to the sales process. These factors are referred to as valuation drivers. Usually, most reliable app development companies offer ample value addition to the app development project.
Some of the core valuation drivers can be categorized into core niches, including:
Operations
Finance
User or customer base
Niche
Miscellaneous
There are some crucial factors like the business age or niche that cannot be improved after a particular point of time. To choose the best app development company for your startup, you should consider how the company will ad value to the product or services you are offering. While analyzing value addition of a particular app development company, you should consider the following instances:
Discussing post-launch support and maintenance
Discussing app store optimization and marketing strategies
Additional benefits like ongoing innovation and upgrades
Conclusion
Building a mobile app for your startup might not be a straightforward process. You are, therefore, expected to partner with the right mobile app development company. It is crucial to seek ample evidence that reliable agencies will serve as great fit for your organization. Moreover, the company you hire should have worked with similar businesses like yours while possessing ample experience in working with similar mobile app development technologies.
Take ample time to make the selection of the right mobile app development company for your startup. It will be worthwhile when you have access to the final product. Choosing reliable services from a reputed app development company serve to be a major investment. Therefore, it is crucial to invest money in the right direction. Moreover, prior to making the desired investment, you should look into proper considerations to get in touch with the best mobile app development company in your niche.
BuzzyBrains -Your Trusted App Development Partner for Success
Are you searching for the best mobile app development company in India for your startup? BuzzyBrains serves to be your one-stop destination to help you with all requirements for customized mobile app development services according to the specific needs of your organization.
With a reliable mobile app development partner like BuzzyBrains, you get access to comprehensive development services like mobile application strategy, mobile app development, mobile application testing, and mobile application support & maintenance. BuzzyBrains has delivered professional mobile app development services across a wide range of industry verticals to support its clients with top-notch mobile app development and maintenance.