Tips to Keep in Mind Before You Start Looking for Outsourcing Partner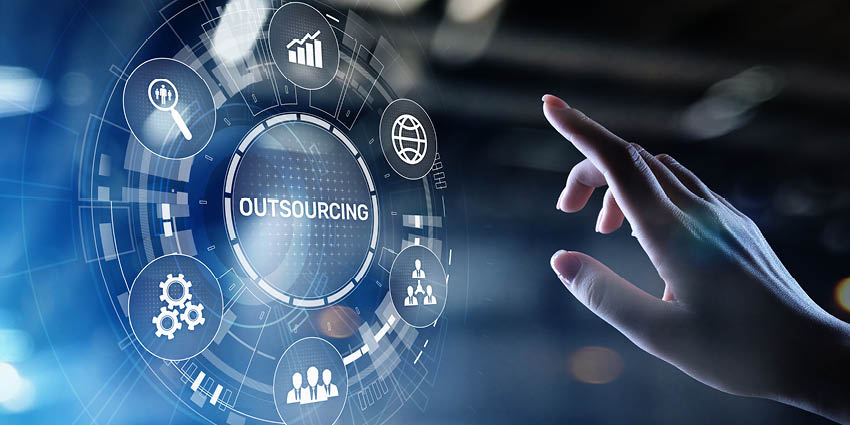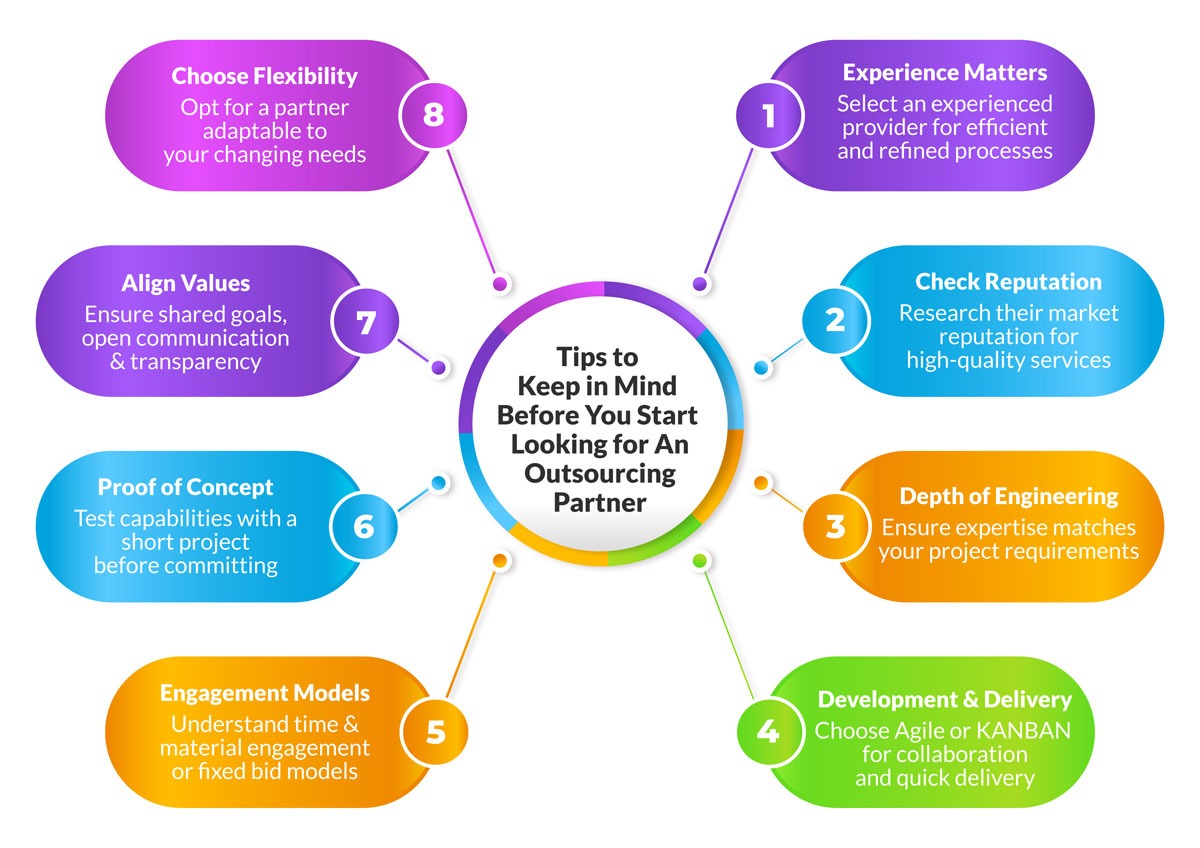 How should a company select an outsourcing provider?
Outsourcing has become an essential part of modern businesses, especially in the IT sector. Companies today are looking for methods of streamlining operations, reducing costs, and increasing efficiency. Outsourcing is an effective way to achieve these goals, as it allows
companies to delegate their non-core business functions to third-party service providers. IT outsourcing providers aid companies to scale quickly and adapt to changing business conditions by providing flexibility in resource allocation and avoiding the need for large upfront investments. As a result of outsourcing, companies can access global markets and diversify their operations by establishing a presence in other countries, minimizing geopolitical risks and natural disasters.
In the United States, outsourcing has become a popular business practice, with an estimated 300,000 jobs outsourced each year, according to the Bureau of Labor Statistics. The global outsourcing market size was valued at $92.5 billion in 2021, with the United States being the largest market for outsourcing services.
However, choosing the right outsourcing provider is critical to the success of outsourcing initiatives. If not considered mindfully, this may lead to losses, both in monetary terms and in credibility. In this blog, we will highlight and discuss the top five things to look for in an outsourcing partner.
Select an experienced outsourcing provider
Experience is a critical factor when choosing an outsourcing provider. A company that has been in the outsourcing business for a long time has a better understanding of the industry and the challenges that come with it. They are also likely to have developed processes and systems that have been refined over time, which can lead to higher efficiency and productivity.
Moreover, experienced outsourcing providers typically have a well-structured and transparent approach to their work, which makes it easy for startups to outsource their projects. These providers have established processes, tools, and communication channels to ensure that clients have visibility into the progress of their projects and can provide feedback and direction as needed.
By outsourcing their projects, startups can avoid the time, effort, and expense of building their own team, especially if they have limited resources or expertise in a particular area. They can also provide value-added services such as project management, quality assurance, and support, which can help startups to deliver high-quality products and services to their customers.
Keep a check on their market reputation
The market reputation of an outsourcing provider is another important aspect to consider. A provider with a good reputation is more likely to deliver high-quality services and meet the expectations of their clients. Therefore, companies should research the reputation of potential outsourcing providers by checking their reviews, ratings, and feedback from previous clients. This information can be easily found on social media, review websites, and industry forums. By doing this, companies can better understand the provider's strengths and weaknesses and make an informed decision.
Depth of Engineering to avoid building a large team in-house
When it comes to outsourcing your software development needs, one of the primary reasons is to avoid building a large team in-house. However, it is crucial to ensure that the outsourcing partner has a depth of engineering expertise to handle project requirements.
Before partnering with an outsourcing company team's experience and expertise in the latest technologies and trends must be taken into account. Surely assess if their team has a thorough understanding of your project's specific requirements and can provide custom solutions accordingly.
At BuzzyBrains, we take pride in our proficient development team's expertise in the software development domain. With 15+ years of experience in delivering cutting-edge solutions to clients worldwide, our team stays up-to-date with the latest technologies and trends. We ensure that our team's depth of engineering expertise allows us to provide custom software solutions that meet our client's unique business needs.
Development & Delivery Process
When it comes to outsourcing your development needs, it's essential to consider the development and delivery process that your potential outsourcing partner uses.
One popular development process that many outsourcing partners use is Agile development. This methodology emphasizes collaboration, flexibility, and rapid iteration to deliver high-quality software quickly. Agile development is particularly useful for complex projects that require frequent feedback and changes.
Another popular methodology is the KANBAN-lean development process, which emphasizes continuous delivery and workflow efficiency. It's a visual system that helps teams manage workflow effectively, prioritize tasks, and minimize waste.
In addition to development processes, you should also consider the delivery process of your potential outsourcing partner. A recent trend in software delivery is Product Oriented Delivery (POD), which focuses on delivering small, incremental changes to the product to improve it continuously. This approach can lead to faster time-to-market and higher customer satisfaction.
Engagement Models:
Engagement models play a vital role in determining the success of your outsourcing partnership. When choosing an outsourcing partner, it's important to understand the different engagement models available and which one would work best for your business needs.
There are two primary engagement models that companies typically work on – Time and Engagement Model and Fixed Bid Model.
Time and Engagement model: In a Time and Engagement model, the outsourcing partner bills you based on the amount of time they spend working on your project. This model provides more flexibility, as it allows you to make changes and adjustments as you go.
Fixed Bid model: A Fixed Bid model involves agreeing on a fixed price for the project upfront, regardless of the amount of time or effort it takes to complete it.
While both engagement models have their pros and cons, the Time and Engagement model is generally more beneficial when working with an offshore team. This is because the offshore team may require more guidance and communication, and it's difficult to estimate the cost and timeline of the project upfront accurately.
In a Time and Engagement model, you have more control over the project's progress and can make changes as needed. This can help you ensure that the project meets your expectations and is delivered on time.
Get A POC-Proof of concept for the engagement model with a short project/pilot project
Before committing to a long-term outsourcing partnership, it's important to make sure that the outsourcing partner can deliver on their promises. One effective way to do this is by starting with a proof of concept (POC) or a pilot project.
A POC allows you to test the outsourcing partner's expertise, communication, and ability to deliver quality work. It's an opportunity to see if the outsourcing partner can meet your expectations and deliver on the project requirements.
Starting with a short project or POC can also help you gauge the value of the outsourcing partnership. You can evaluate the cost-benefit ratio and determine if it makes sense to continue working with the outsourcing partner for larger projects.
With a POC or short project, you can minimize risk and make an informed decision. It's important to communicate your expectations and goals clearly with the outsourcing partner and set realistic timelines and milestones for the project.
Ensure your company and corporate values are aligned
The values and culture of the outsourcing provider play a vital role and guide one perfectly on how a company should select an outsourcing provider. This can ensure that the outsourcing provider understands the company's goals and objectives and works towards achieving them. Therefore, it is essential to have open and transparent communication with the outsourcing provider to ensure that they understand the company's values and culture. This can help build a strong relationship between the two organizations, which is critical to the success of outsourcing initiatives.
Choose a flexible partner
Flexibility is an essential factor to consider when choosing an outsourcing provider. The outsourcing provider should be willing to adapt to the company's changing requirements and needs. This can include scaling up or down the services provided, changing the scope of work, and accommodating urgent requests. Companies should choose an outsourcing provider that is willing to work closely with them and provide customized solutions that meet their specific needs.
Conclusion
In conclusion, choosing the right outsourcing provider is critical to the success of outsourcing initiatives. Companies should consider several factors, including experience, market reputation, cultural alignment, infrastructure and technology, and flexibility when selecting your Software Development partner. By doing so, companies can ensure that they work with a provider that can deliver high-quality services, meet their requirements and help them achieve their goals.
If you are looking for an IT outsourcing provider, BuzzyBrains is one of the best IT outsourcing service providers in India. We have extensive experience in providing outsourcing services to clients in various industries, and their market reputation is excellent. We at BuzzyBrains ensure that transparency and open communication is maintained throughout the process. Our technology can meet your requirements and provide customized solutions that are flexible and adaptable to your changing needs.