How Much Does It Cost to Create a Mobile App in 2023?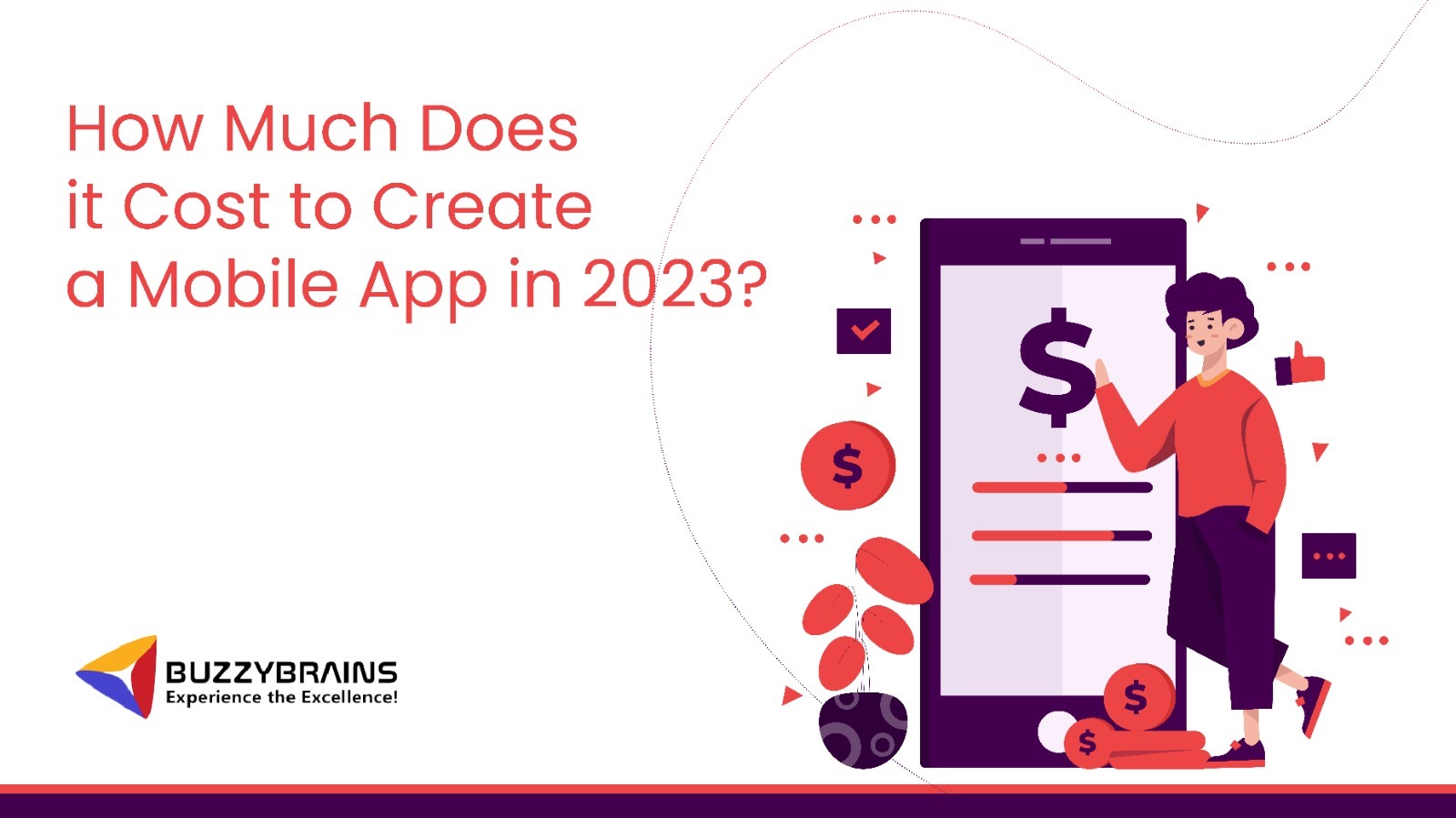 Developing a mobile app is a complicated process. As such, figuring out the overall costs is equally challenging. There are several factors that tend to affect the cost of developing a mobile app. Let us help you understand the same in detail.
How to Calculate the Cost of Creating a Mobile App?
As per a study report, Google Play Store has more than 3.5 million mobile apps across the globe. At the same time, Apple App Store boasts the presence of over 2.2 million apps. These study reports also reveal that the global mobile market revenues will reach around $613 billion by 2025.
With immense popularity, there is no denying that modern businesses strive to enter the domain of mobile app development to garner the interest of their target audience. However, as far as investing in a mobile app development project is concerned, the primary question that comes up is "How much does it cost to develop a mobile app?"
To analyze the total costs, here are some pointers to consider:
1. Define the Scope of the Mobile App Project 
Defining the scope becomes explicitly crucial as you start the app development project. Ultimately, the overall success of any digital venture will depend on effectively detailing the project requirements -including deliverables, timeline, and specifications. You can work with project stakeholders to analyze the project requirements and scope. This approach will include conducting in-depth surveys, creating user personas, and evaluating the brand strategy.
Some important tips to consider are:
Identify app features and objectives
Define user personas and target audience
Identify potential competitors and market trends
Document technical specifications and requirements
2. Estimate App Development Costs
It is possible to estimate the cost of developing a mobile app efficiently. Most mobile app development companies will offer a rough estimate of the development project. It is provided right before the development stage to make you aware of how much you need in advance.
Some important tips for calculating the cost of developing an app in advance are:
Budget effectively for mobile app development
Identify crucial cost components for app development
Understand the cost of hiring developers or outsourcing
Think about app store submission and maintenance costs
Estimate costs for post-release updates and maintenance
3. Understanding Key Factors that Affect App Development Costs
Mobile app development cost depends on a wide range of factors that are significant in several aspects. Understanding these factors that affect the overall costs, will help you in making cost-effective decisions while offering the best ROI. Moreover, it also helps you to stay within your development budget. Here are some to consider:
1. Platform Selection
As you start the process of developing a mobile app, it is crucial to choose the right platform. Based on your target audience, you can think of choosing between Android, iOS, cross-platform, or web applications. If you are a startup having a minimal budget, it is suggested to go with a hybrid app development platform like React Native or Flutter.
2. App Features and Functionality
The answer to the total cost of developing an app will ultimately depend on the set of features or functionalities you wish to include in the application. The base price for developing a mobile app will advance with the inclusion of more features.
The best option to keep these costs minimal is by getting an MVP developed. MVP is regarded as the first-ever version of the application with a standard set of features. It helps in saving your time as well as your money while helping you to gain valuable feedback from end users.
3. UI/UX design
To ensure that end users are investing time in your mobile app, you should focus on the overall app design. As you decide on the app design, you have two options -standard UI and custom UI. It is difficult to design and implement custom UI compared to the standard UI.
The design of your mobile app should be the ultimate experience that will appeal to end users. It is also an ideal solution to get a clickable prototype once the app requirements are in place.
4. App Complexity and Logic
The average cost of developing a simple app is around $15,000 to $50,000. A simple mobile application will be available with the standard set of features like user profile access, a login system, limited administration, and a dashboard.
On the other hand, the cost of developing a complex app is between $50,000 and $120,000. A medium-scale complex app will encompass a wide range of features for app monetization and user engagement. Some of the basic features to consider for complex apps are audio/video streaming, payment gateway, user privacy, social media integrations, and many more.
5. Time & Resource Requirements
The overall time and resources it will take to develop an app will also help you to determine the total cost of the entire project. Therefore, the primary step towards estimating the cost of your mobile app development project is breaking down the project into multiple manageable tasks.
Eventually, you can assign team members to different tasks. Estimate the overall duration of every task and the resources required to execute the same. It will help you determine the total costs for the app development project.
Cost Breakdown for Mobile App Development
Startups are always worried about overestimating the costs involved with developing an app. Primary aspect that most businesses look for while outsourcing a mobile app development project to an experienced team are reduced costs and optimum quality. The cost of mobile app development varies significantly -depending on multiple factors. That is why you need to prepare a proper breakdown of the total costs, of assisting with the mobile app development company. While preparing the breakdown of the mobile app development costs, here are some points to consider:
App Development Phases
Before you move forward, it is pivotal to understand the different phases of mobile app development. These are:
Concept and Planning:
The basic idea of the app might not be enough to get started with the app development project. You must also budget the time as well as the resources, quite early to wireframe the concept of the app. Think about the functionalities your app will require, what more you can add, and how it shall work altogether.
In the concept and planning phase, you can also think of graphically designing the backend database to have a proper workflow as you code. Analyze other aspects like the user interface, screens, and the buttons that will be available. The entire process is known as wireframing.
UI/UX Design
From the prototypes you design, you should garner as much feedback as possible -especially for the overall experience with the app's graphic interface. The criticism and comments you receive from the outsiders using your app will help in bringing about fresh perspectives while guiding the overall UI/UX design significantly. Before you advance to the app development stage, it is crucial to ace the UI/UX design stage. It will ensure that your app is functioning smoothly with multiple design elements. The app design prices will differ depending on the number of app screens, the utilization of design elements, and the overall design complexity.
Development:
It is the most important aspect of the entire app development process. Here, cost estimation can be a difficult task. As the project will continue, you may look for developing and integrating advanced features. The more complex the app features are, the more budget you can expect to create the app.
Testing & Quality Assurance:
Once the app development process is complete, the testing stage serves to be the most crucial stage. It is very important that before you launch your app to understand whether or not your app functions properly. You can think of executing multiple forms of app testing.
Front-end app testing will account for around 30 percent of the total app cost. On the other hand, admin panel front-end app testing will account for around 15 percent of the costs. The approx. price range is around $5,000 to $10,000.
Launch & Maintenance:
As you have developed and launched your app, your work is not complete. To retain your app users, you need to keep upgrading and maintaining the app from time to time. For instance, you need to consider several post-launch app expenses like bug fixes, legal support, user support, updates, and server maintenance.
Cost of Hiring a Development Team
As far as the development team is concerned, you have two options that determine the final budget of the project, including:
In-house Developers:

It includes hiring a team of full-time developers to build your app. The idea of hiring a full-time individual for your app appears beneficial in several aspects. However, it will also include redundant costs like salary, infrastructure, internet access, and other perks.

Outsourcing:

It is a primary choice for most businesses -including startups. It serves to be a middle spot between hiring in-house developers and freelancers. When you outsource the mobile app development project to a reliable mobile app development company, it helps you in building the app within your stipulated budget and timeframe. Meanwhile, you are enabled to focus on other core tasks like marketing.
Cost of App Store Submission and Maintenance
As developers will build apps, they are also expected to consider the app store requirements. As far as the app store fee is concerned, it is not a major factor. As you submit an Android app to Google Play Store, you are expected to pay a one-time charge of $25.
If you wish to distribute your application exclusively throughout the organization, it will cost you $299 per year to be a part of the Apple Developer Enterprise Program.
Average Cost of Developing Most Popular Apps
Depending on the specific requirements and functionalities, different apps will cost differently for development. Some popular options to consider are:
Simple Mobile Apps:

These apps encompass standard features and functionalities and can be developed within a month. Some of the common instances of such apps are calculators, flashlights, and stopwatches. The average cost of development here is around $10k to $20k.

Mid-level Mobile Apps:

Apps with additional functionalities like online shopping and social networking fall into this category. It can take around 3-8 months to develop such apps. The total cost of development for these can be around $20k and $50k.

Complex Mobile Apps:

Apps featuring customized or specialized functionalities aimed at solving complex problems might be expensive. In most cases, these are on-demand services, augment reality apps or real-time navigation apps. The duration of developing such apps can be around 3-8 months with an estimated cost of around $30k to $70k.
Related Blog: How to Start a Successful Mobile App Startup
Tips to Keep Mobile App Development Costs Low
Thankfully, business owners can think of minimizing the overall costs of mobile app development by following industry best practices and useful tricks. Some relevant tips to achieve the same are:
Set a proper budget
Prioritize features you wish to include in the app
Work with a professional development team
Use the agile development methodology
Avoid unnecessary app store fees
Conclusion
So, how much does it cost to develop an app? It is evident that there is no exact number to this question. Considering all the important factors you need to think of, you can arrive at the estimated cost for converting your unique app idea into a successful reality.
Make Your Mobile App Vision a Reality with BuzzyBrains
BuzzyBrains -a pioneering mobile app development company that will fulfil your desire to develop a user-friendly, feature-rich app in the most cost-effective manner. Experienced and qualified mobile app developers at BuzzyBrains will assist you across all stages of the mobile app development process to help you minimize overall costs.