Top Unique Mobile App Ideas for Startups to Launch in 2023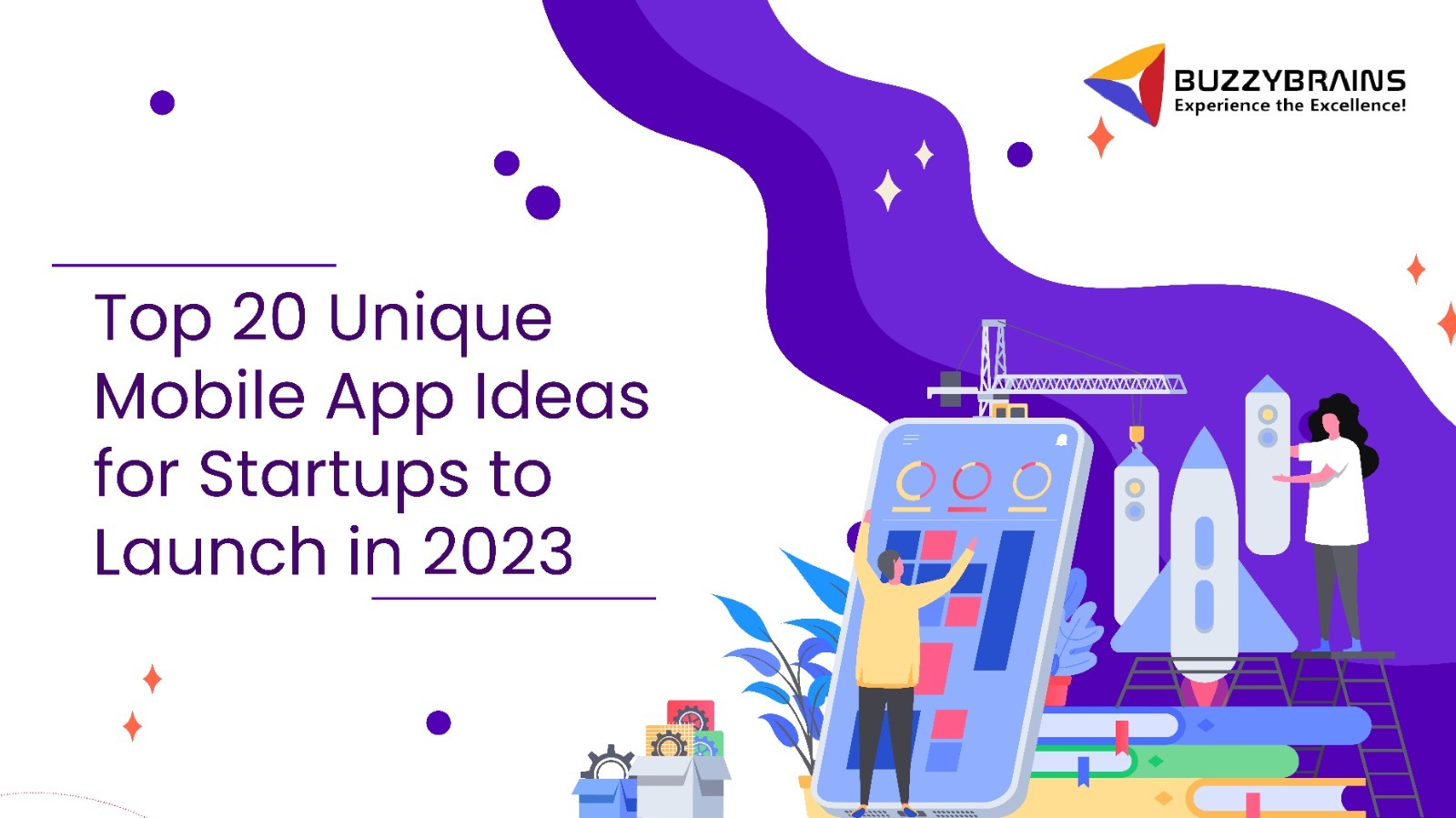 Having a dedicated mobile app in the modern, digital era has become the need of the hour for enterprises across the globe. However, if you wish to stand out from the competition, you need to brainstorm innovative mobile app ideas. Upon in-depth market research and analysis of the ongoing industry trends and ways to ensure revenue generation, you can go through some of the most unique ideas for startups to launch a mobile app in 2023.
Finding the best mobile app ideas for your startup in 2023 can be challenging. If you are thinking of launching your startup, professional mobile app development services from experts can help you in keeping the best choices in mind. In the modern era, mobile apps play a vital role in supporting a wide range of functionalities for end consumers. Therefore, it is not surprising that entrepreneurs and startups are willing to jump on the mobile app development bandwagon.
Related Blog: How to Start a Successful Mobile App Startup
Importance of Mobile Apps for Startups
In a recent survey, it was reported that there are around 3 billion smartphone users across the world. Forecasts made across the pre-pandemic era state that mobile app development is capable of generating around $935 billion in revenues by the time of 2023. The era of the global pandemic has only accelerated this process while improving the bottom line. As the world is advancing rapidly towards high-end digitization, several profitable mobile app ideas also keep coming up in the mobile app development industry. Mobile apps for startups are capable of drawing the attention of the target consumers. The ever-increasing use of smartphones and other mobile devices has rooted the fact. As a startup, when you develop a user-friendly, unique mobile app to deliver some functionality to the end users, it will help in increasing your overall revenues. This is the reason why top-notch mobile app development companies with deeper insights are executing research into new, innovative mobile app development ideas to improve the overall business revenue and simplify day-to-day operations or tasks.
Mobile App Statistics for 2023
Mobile apps are expected to reach an overall revenue of around $935 billion by 2023
21 percent of millennials tend to open a mobile app around 50 times every day
The App Store alone features more than 1.96 million mobile apps for downloading
Google Play Store has more than 2.87 million apps available for download
Need for Unique and Innovative Mobile App Ideas
The implementation of cutting-edge technologies like Artificial Intelligence, AR/VR, Machine Learning, IoT, and others into modern mobile apps is leading to the advent of highly innovative ideas. The latest mobile app development trends offer opportunities for both startups as well as seasoned businesses to thrive and make a mark in the existing market.
Therefore, it is crucial for modern businesses to feature a unique mobile application that is capable of engaging with end users to gain a competitive edge and achieve ample success in the market.
Best Mobile App Ideas for Startups to Launch in 2023
We have come up with a list of the best innovative mobile app ideas for startups in 2023 to keep you updated on the latest mobile app development trends.
1. Lifestyle & Entertainment Apps
Entertainment and lifestyle apps have been in great demand quite recently. In the ongoing, critical pandemic era, these apps serve as a great way to escape the harsh realities of a complicated life.
The advent of smartphones has significantly changed the overall perspective of end users with respect to entertainment and lifestyle preferences. At the same time, the internet revolution has made it simpler to receive relevant updates about your favorite TV shows or movies.
Some of the common types of lifestyle and entertainment apps are:
1. Personalized Fitness and Workout Apps:
Health and lifestyle applications, centered around health-conscious people to track day-to-day habits by certified nutritionists and health experts are highly in demand amongst the modern population. These applications are expected to be equipped with high-end features like health charts for managing different aspects of overall health -including weight, blood pressure, sugar levels, and so more. A fitness or workout app is a great way to help people stay fit and motivated throughout.
2. Social Networking Apps for Specific Communities:
These apps will serve the purpose of the social networking giants like Facebook along with extended capabilities for specific communities like sellers or buyers. This app will allow users to ensure recommendations while searching and buying products on someone's suggestions.
3. Virtual Event Platforms for Shows and Concerts:
To thrive in the highly competitive hospitality industry, it is crucial to update mobile devices to manage time effectively. By leveraging a high-end virtual event management platform, you can go ahead with creating an event, selling tickets, or even promoting the event on different social media platforms.
4. AR or Augmented Reality Gaming Apps:
The ever-rising availability of top-end AR (Augment Reality) and VR (Virtual Reality) technology helps in delivering access to opportunities for startups to come up with state-of-the-art mobile apps that leverage these technologies for delivering immersive experiences -especially in the gaming domain.
5. Travel Planning and booking Apps:
These apps should help users to plan out the entire trip in one go -right from planning to booking to budgeting. All that end users are expected to do is fill out essential information regarding the trip and get personalized travel packages well-suited to meet their unique requirements.
2. Health and wellness Apps
Health and wellness apps are committed to making it easier to plan mandatory health check-ups along with daily meals for a specific health-centric goal. The health and wellness apps should be capable of managing all vital medical components of the users -including symptoms, medication, medical history, fitness records, and appointments.
Some of the common types of health and wellness apps are:
1. Mental Health Apps:
An application for promoting mental health awareness and addiction recovery is needed towards addressing the rising cases of the mental health crisis. Such apps are helpful in offering access to useful resources, guidance, and support to individuals struggling with common mental health disorders.
2. Apps for tracking and managing chronic illnesses:
People tend to deal with a wide array of chronic illnesses that are difficult to manage on a day-to-day basis. Interactive healthcare apps for managing and tracking chronic illnesses to help patients manage medications, symptoms, and conditions.
3. Personalized nutrition and meal planning apps:
People nowadays are very much concerned about their overall health and fitness, so you can surely leverage & build ideas around the wide range of features offered by a personalized nutrition and meal planning app. Meals can effectively be scheduled and built onto the app's calendar with different dishes indicating the number of fats, proteins, carbs, and other nutrients.
4. Telemedicine apps for remote consultations:
In the ongoing pandemic era, the overall demand for telemedicine apps has increased significantly. A medicine delivery app will allow you to keep track of the respective orders as well as deliveries. There are additional features as well like doctor consultations and instant checkups that you can accommodate in your app idea.
5. Elder care apps:
You can build an app for elder or senior care that is concerned with providing valuable services to seniors like appointment reminders, ride-sharing, grocery delivery, and so more.
3. Education and Learning Apps
E-learning apps are one of the most accelerating app ideas that have gained popularity since the advent of the global pandemic. E-learning apps are designed to deliver online education to students while allowing college and school teachers to connect with the respective students online.
Some of the common types of education and learning apps are:
1. Language learning apps:
These education apps can assist users with beginner and advanced lessons in different languages. These apps can feature varying levels of difficulty. The advanced version will feature full-fledged conversations. Also, you can build apps that can allow the voice to make learners aware of how terms are pronounced.
2. Education gaming apps for kids:
You can build game apps that can deliver education and learnings for kids by being interactive and user-friendly. Fun and educational games in these apps can help young minds to develop cognitive thinking and interactive learning skills on the go.
3. Online tutoring platforms:
These apps are aimed at connecting students to tutors or virtual tutorials online for group or one-on-one learning sessions. You can build an app that enables users to browse through a list of available tutorials and even book appointments with the desired tutor online.
4. Vocational Training Apps:
Vocational training apps can be built committed to catering varying needs of end users in the vocational education space. These apps would be expected to be super user-friendly while displaying information about all relevant training opportunities with different perks.
5. DIY and crafting tutorial apps:
DIY is booming among youngsters these days. You can build an application that offers personalized tutorials in different formats to help users create something innovative and craft-oriented all by themselves. Users of these apps can get to learn unique ways to create interesting art & craft with the help of easy DIY methods.
4. Sustainability and Environment Apps
Apps within smartphones have become highly integrated with our day-to-day lives. One of the important aspects we need to consider is the overall carbon footprint we create individually with our day-to-day habits. This is wherein reliable environment and sustainability apps can help. You can build an idea that is committed to making users aware of their environment-centric activities and how they can minimize their carbon footprint.
Some popular options are:
1. Recycling and waste management apps:
By creating waste management and recycling apps, you can help the audience & users manage their day-to-day waste efficiently. You can also offer advanced features to your app like recycling information, waste collection schedules, and tips for minimizing waste to make it more efficient.
2. Sustainable shopping and product review apps:
If you interested in conscious or ethical shopping? You can build a great solution to save the environment. You can help users to indulge in sustainable, ethical forms of shopping by building a sustainable shopping app solution.
3. Energy usage tracking apps:
Wish to control the overall energy consumption around the world? Well, it can be a great idea to leverage the advanced functionalities and build an energy usage tracking app that helps its users to monitor the overall utilization of energy in their home or business.
4. Carbon footprint tracking and reduction apps:
It's important to keep a track of your carbon footprint individually. You can opt for the idea of creating an app for carbon footprint tracking and reduction that can help its users monitor their efforts toward saving the environment and how they can improve the same.
5. Environmental education and awareness apps:
It is high time to be aware of the environmental factors and events taking place on a global level. It's an amazing idea to create an app that can help its users to gain insight and information & engage on environmental education topics.
5. Emerging Technology Apps
Increasing internet penetration, evolving needs of the end consumers, and the overall convenience of smartphones are some of the core reasons for the highly mobile ecosystem in the modern world. As a startup, you need to leverage cutting-edge, evolving technologies like AI, ML, and others to design and develop apps that draw the attention of the target audience.
Some common instances are:
1. VR and AR Apps:
With the increased availability of AR/VR, you can leverage the opportunities to develop an interactive mobile app that leverages these technologies in the delivery of highly immersive experiences.
2. Blockchain-based apps:
There are several applications of revolutionary blockchain technology. You can develop a blockchain-enabled app to improve security across diverse industry verticals.
3. IoT (Internet of Things) apps:
As an entrepreneur, if you are searching for a startup app idea, IoT apps can help you immensely. IoT offers endless app ideas like smart home monitoring, smart energy, smart asset monitoring, and so more.
4. Robotics and Automation Apps:
Industries keep looking for advanced robotics and automation apps to streamline their processes. You can build an idea that meets the industry requirements & features high-end agility to simplify complicated tasks.
Conclusion
As a startup owner, you have access to a myriad of innovative app ideas to kickstart your business. By building a reliable, user-friendly app, you can easily garner the attention of your target audience.
BuzzyBrains: Transforming App Ideas into Reality for Startups
With BuzzyBrains -a pioneering mobile app development company, you can look forward to accelerating the overall growth of your startup venture with the help of reliable mobile app development services. Whatever might be your requirements, the mobile development specialists here can help you achieve your goals seamlessly.